AN IMPERFECT END
He never won the Royal Rumble. He was never King of the Ring. He never held the World Title of the WWF or WCW.
But he was an uber-heel, a good face, a memorable Intercontinental Champion and a fine technical wrestler: this column bids farewell to Mr. Perfect Curt Hennig.
As I watched Sunday Night Heat, I had a wave of bittersweet nostalgia as I watched Hennig wrestle his final televised WWF(E) match against Matt Hardy. There was no Perfectplex and no neck whip. In fact, keeping with his recent jobber-to-the-stars status, Perfect lost to Hardy after taking a "side effect," yodeling leg drop and twist of fate in rapid succession. That was it. I will never see Mr. Perfect wrestle again.
Like most fans, I think I'm going to forget the last couple of months of his career in which he seemed to have only one accomplishement (hitting the Perfectplex on the Big Show in a memorable spot). I want to remember Hennig in this year's Royal Rumble and pretend the WWF did not re-sign him after the rumble match.
I'll never forget hearing Perfect's music during the rumble and seeing him walk down the aisle in a blue and black singlet, throwing and catching his towel. The crowd went nuts. We all went nuts.
The last image I want to keep of Perfect was the gum-swat he pulled off while he was about to be eliminated by Triple H and Steve Austin. The old-schooler over the "young pups." The night he almost pulled it off. The Royal Rumble epitomized Perfect's career.
Now that he's been fired for picking a drunken fight with golden boy Brock Lesnar, most casual fans will never remember Hennig. On the Weinerville forum, there's been maybe two dozen posts about Perfect's termination. I think we all wanted him to never be hired back, so we could hold on to the memories of a Curt Hennig who was agile, athletic, witty and at the top of his game.
To remember the Mr. Perfect of the early 1990s is to be, in my opinion, an old-school mark.
Perfect's title accomplishments were few. He had one forgettable WCW Tag Team Championship run with Barry Windham, and he twice held the WCW U.S. Title, dropping it in 1997 to Steve freakin' McMichael and Raven.
As for his WWF career, Hennig twice held the WWF Intercontinental Championship, and many believe he was overlooked as a serious contender for the heavyweight belt. He first won the IC Championship on April 23, 1990 in Austin, Texas when he defeated Tito Santana in the finals of an eight-man tournament. He dropped it to "The Texas Tornado" Kerry Von Erich on August 27, 1990 in Philadelphia. This was also Hennig's first televised loss after the WWF proclaimed him to have "a perfect record." Perfect took the title back from the Tornado on November 19, 1990 in Rochester. He held it for nine long months until dropping it in a five-star match to Bret Hart at Summerslam 1991.
That's it. Not exactly a glorious title history. But we won't remember Perfect for his titles, we'll remember him for his heelish antics. He was the ultimate snob.
From his ridiculous vignettes in which he threw footballs a hundred yards and caught them himself, to promos in which he was an arrogant ass, Perfect was an excellent performer. But unlike many of today's stars, he could cut excellent promos and deliver captivating matches in the ring. His abilities as a true technical wrestler cannot be denied. He had a crisp style that is burned into my memory.
If you close your eyes, you can see him give an arrogant stare to the crowd and spit, "NOW YOU'RE GONNA SEE...A PERFECT PLEX." Gold.
The Hulkster was the first person I ever saw kick out of the Perfectplex. This was back in the day when the WWF knew how to establish characters and build psychology. As Perfect locked Hogan into his signature move, I just knew the Hulkster was defeated, but it was not to be. Thought Hogan won the match, Perfect's feud with Hogan was productive in a strange way.
Through the feud, Hennig made a contribution to the WWF - he gave us the Hardcore Championship belt. On Saturday Night's Main Event, he took a hammer and busted up Hogan's belt (this was shocking in the days before Crash TV).
Pieces of the smashed strap lay in a display case at Titan Towers for almost a decade before McMahon put it back together with duct tape and awarded it to Mick Foley.
Every time you see that belt, please remember Hennig.
Even in his brief WWF face run, he was exciting and always delivered the goods. Remember how Hennig turned? He was a "retired" commentator on Prime Time Wrestling with Bobby Heenan when Randy Savage needed a partner to face Razor Ramon and Ric Flair at Survivor Series 1992. Heenan degraded Perfect for even considering teaming with Savage, eventually slapping him the face after an argument.
Perfect kicked The Brain's ass and poured a pitcher of water on his ex-manager's head before accepting Savage's invitation. It was unexpected. In fact, it was shocking because Perfect had ALWAYS been the heel At Survivor Series, he received a thunderous, standing ovation from the crowd. He almost left Savage to fend for himself in mid-match, but had a change of heart and returned to the ring to give himself and Savage the win.
Perfect later beat Flair in a career-vs-career match on Raw to send Flair back to WCW. Those were the days when the WWF knew how to put over the younger talent.
I truly am going to miss Mr. Perfect.
For all of you Mr. Perfect marks, here is one last neck whip for you, executed on Kurt Angle at this year's Royal Rumble. Farewell!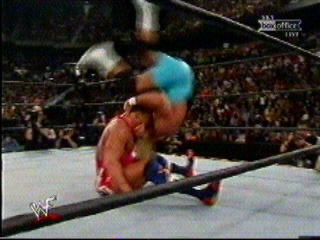 Parts Unknown
from Weinerville

Mail the Author

Comment about this article in Wienerville